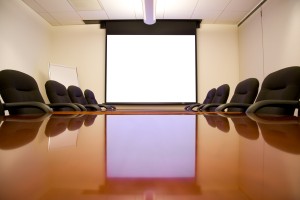 We provide conference room installations to meet your needs, from a small compact or mobile unit to a large fully installed working wall housing an LCD/Plasma, Projector, Screen, interactive whiteboard, flipchart audio system etc.
Control systems are made available for ease of use, a simple remote control enables you to operate all the equipment installed PC, Video, and Audio.
Whether you are looking to design a fully integrated conference room system with projection screen and advanced IT control or a basic system for a small meeting room, our broad range of high quality products and experience put us in a leading position to serve you.