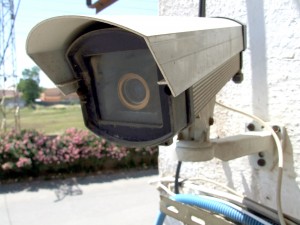 All Safe and Secure can install a contemporary intercom system that will allow you to talk throughout your house without having to shout to each other.  Stand alone, or as part of an integrated system, a whole house intercom is a nice addition to any home.
If you want to feel more secure, solve the noise problem in your house or just get to know what everyone else is doing, we can add strategically placed surveillance cameras inside and outside your home so you can see exactly what is going on in your surroundings.  These cameras can be seen on monitors throughout the house, on a dedicated display, or even on the wall mounted touchpanels in your home.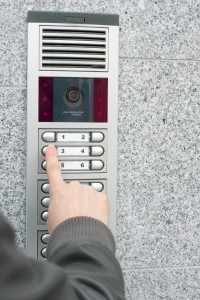 We can even help combine a front door intercom station with a surveillance camera.  So that when someone is at your front door, the music in the house can mute, you can see the image on the touchpanel or monitor, and you can talk directly without walking to the door.  We can even set you up so that a press of a button will let your visitor in, if you choose.
A well-designed technology infrastructure enhances security and communications in your home or office.  With All Safe and Secure, you will never have to worry a single moment.